29 September 2004
Had been super super busy with working hard with studies and lots of preparation into a BBQ held at my house on 25th Sept 04. Some photos to share on that fun day!!! unluckily my darling was in sentosa hehehe missed her sooo much hehehe ...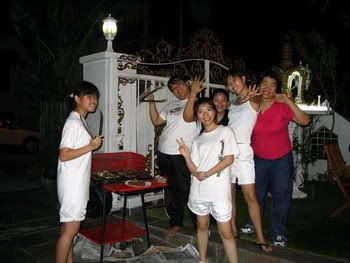 Ladies at the pit? WOW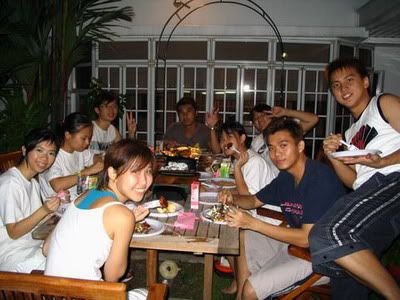 Nice food?
sure was fun hahah with the games and the food and drinks ... oppz eh i am the host that day but but but i didn't do a good job as i was busy playing PS2 with palz hahaha fun game Prince Of Tennis is, and there is a special from a guy that when u use a darn duck appears and the sound "HUICCCCKKK!!!" hahaha with black hair somemore HAAHAHAH super funny!!!
Well so many happened this few days ups and downs especially, haiz i may seem happy my darling but i only can do so cos i wan to be a support to you =), cos i don wan you sad i sad then all weak understand? it really hurts when u are suffering mentally, thank you for telling me how u feel. sayang ok don't hate your mom sooo much she is just trying to protect you, sayang
7:12 PM
24 September 2004
Talked to her soo happily last night, then suddenly i received a msg from her " darling i very scared, my mom found out about our r/s , say relative saw us outside" well i was shocked but was already how to say ... anticipating it to come any time soon, at her age well who could blame her parents for disallowing her in a relationship, well i think i got to start letting her parents know about me bah know that i truly love her =) darling plz don't be sad ok don't cry cos i am not gone, hehe still here always by your side ... 3rd time being sort of found out in r/s. Well luckily i can take it if i were to talk lesser or go out lesser with my gal, whew heheh darling hehehe i still here lor don need to cry, i will give u my warmest hug and hold u tight =)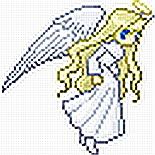 My Angel Fidel Loving You

As long as we love, nothing & i mean nothing can seperate us ...
Went to get my singing results today ...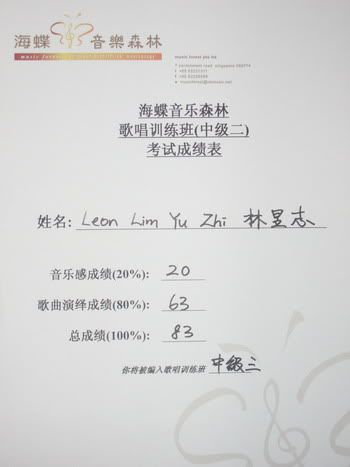 11:13 PM
22 September 2004
Got back another result today . . .
Hey, Leon thats some very very sucky results you got there, stop slacking on your studies!!!

After sch i turned into Santa Claus go to AMK MRT meet my Sherin, 8 years god sista to pass her bday present and Jannity primary sch mate give bday present before she go meet her bf, haha her present had been rotting for months in my house haha.
Wah, today go The Ark, cafe audition for their annual KTV competition, actually singing "Sha Tan by Tao Zhe" but last minute think "Tian Tian by Tao Zhe" can show off my vocals increase chance of getting in bah. hehe wah lao sing wrong verse and timing too fast, the stress on stage really limited my performance...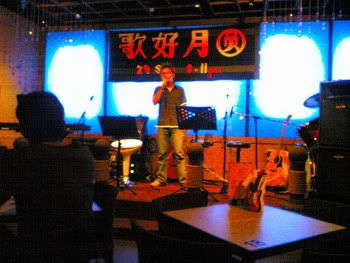 1 person on stage with so many pairs of eyes staring ...

T_T
I got videos of me singing like shit hahah well anyone wanna see ask me for them bah but don't regret =)
Today's singing class wasn't bad heheh thx Danny for boosting my confidence, well really hope at every end of wednesdays all ppl in my class learn something instead of returning it to me.

Thx to Singing Division Members for wishing me all the best before i went off to sing, darling for the sweet sweet jia you msg u sent for me hehehe i got in leh didn't waste your sms =) miss u soooo MUCH!!!
11:32 PM
21 September 2004
Got back 2 common test grades today =(
Mathematics Calculus - F

Digital Electronics - C
Some marks that was, my math grade really dissapointed me deeply and it's really painful when i heard it, i have always always loved math ... really, i need a tutor anyone willing?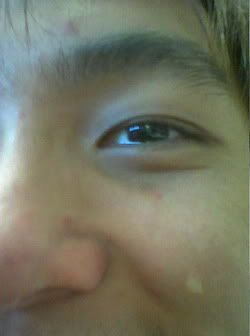 Wait is that a tear in my eye? ... i don wanna fail math .... of all subjects ...
hahah no lah i didn't cry but was really sad nah haiz, gotta buck up it really turn down my mood alot for loads of up coming things ...
Well after sch heheh ended at 4.30 instead of 5pm with Shu Herng we almost jogged to MRT station as i was in rush hour, my darling go watch movie then hopefully can go buy her a toy give her to motivate her to study lor, then wah lao run run run then when reach Douby Ghuat all sweaty liaoz hahaha =)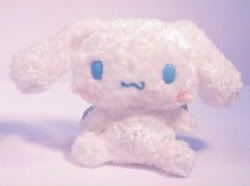 Cinnamoroll doll for my sweet darling =)
Hope you like it, hehe thinking of u hugging it when u 1st open up the packet makes me happy hehehe luckily u like it haha once u open then hug liaoz hehehe so cute, then saw darling tie hair liaoz hahaha so cute, wishing i can hug u while we sleep =)
1:51 PM
20 September 2004
HAPPY BIRTHDAY JIE!!!

wish you all the best happy happy with Adrian in Australia ok? hehe Adrian takecare of my sista ah =)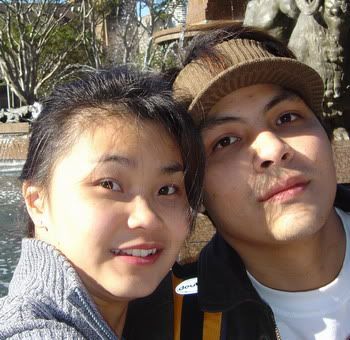 Miss you alot jie!!! & Adrian

3 other presents to give to you . . . they miss you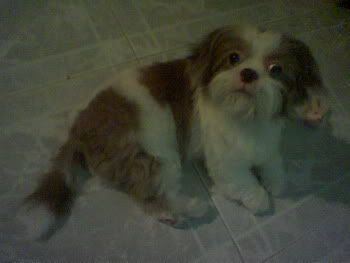 Jin Jin,everytime i eat something just bark and bark and bark wah lao .... sian bo? hahaha think she really miss you alot the food u give and the hugs too i also give her but think from u is the best, well she the most guai!!! i feel hehehe she really miss u all her eyes just say it all.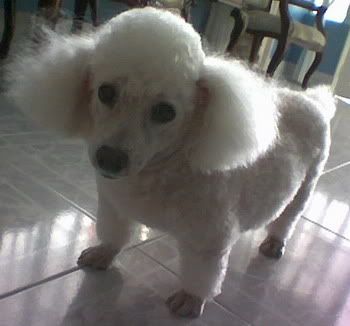 Victory, legendary Ham steak hahaha his stomach is getting rounder and Jie yes he got 5 legs on the floor HAHAHAH!!! ok well obedient and doesn't bark super super paitient when waiting for food, most guai in our house of 3 suckers hahaha. Guess he misses Adrain loads hahaha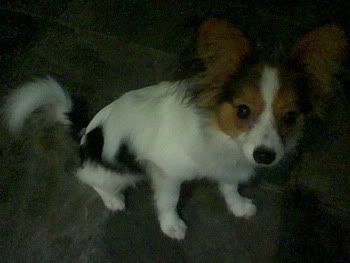 Magic, judging by his name this dog seems to be kinda great yeah? NOO!!! darn destroyer has record number of crime committed in my house hahaha, 3 torn wallpapers, riped 2 pair of home shoes mom wore, 3 dog pillows, darn dog extracted sponge out from holes he create, 1 toilet rag, DAMMIT I AM GOING TO KILL HIM!!! hahah but well he is alittle obedient at times but don get cheated by his big eyes, he is a devil indisguise



9:31 PM
18 September 2004
Out with darling again!!! yeah thx Danny for allowing me to skip todays JMD practice THX THX THX!!! hehehe today saw Lovynn at PS leh or is it she saw me hahaha, and Kheng Hua said he saw me with my gal and my primary sch best buddy Sen Rong was also at PS too with his gf watching "The Ghost" also hahaha so much coincidence, guess PS is great place to go bah haha.
hehe darling your haircut is nice why u keep on saying ugly neh? huh naughty gal ah beat ur pi pi!!! ah
hehe today 1st time see darling soooo cute leh hehe watch movie hold my jacket hahah until so tight .. ola sayang don't scared of ghost i will protect you ok. Hugged u soo tight hehe. After that went to Ajisen to eat lor heheh she so cute!!! Love you so much neh haha luckily brought my digital camera so took so many wonderful pictures, and of cos Neo-Print.
Today was wonderful really i loved every second of it, only a part ... after going out with my darling go meet up with friends lor, then after that go back to YCK MRT wait for bus 70 .... bloody hell wait from 7.20 till 8pm no bus FuXK then i took cabby home... well thats why i always think that public transport is a waste of time.
Talking abt it well JMD members i got to say i might, might be quitting so that i can squeeze driving into my shedule, becos i really wanna be able to drive, drive my family and my darling around of cos my friends too hahaha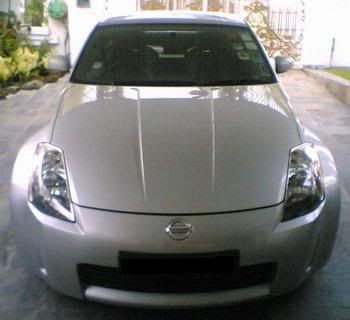 Gotta get my hands on this set of wheels!!!
9:29 PM
15 September 2004
1st time i teach a class of 9 people, in singing alone without Jae, sometimes i just don't know where i should start and to continue in the lesson ... well i am sorry Danny sorry, i think i kinda screwed up bah. But i did teach them yeah though it's just too very messy hahaha now i know the stress Arina is having conducting the 1st lesson of JMD. Well am i going to fast? or am i repeating the stuff just like too much? I am afraid of boring them. It's really hard to teach someone who is like older then you like u are afraid of offending them or getting them thinking "Is this guy really that good to be able to teach us?". Well i guess it's myself thanks to members of Singing Division telling me to be more confident, i have to hold my stance next week. Being a teacher really isn't easy hahaha thx to all ppl helping me up when i am constantly falling myself HAHAHA . ... sorry ppl about the way i thought you guys i will improve as fast as i can!!!
Thanks Danny for being so understanding let me have off to spend time with my Darling!!!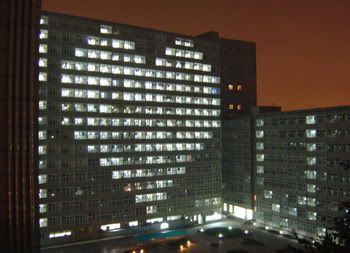 Once again i wanna thank my darling for your loving support caring soo much for me when i am in a low state, she is my life =) Love you!!!
11:26 PM
14 September 2004
This is specially for my darling Deldel, heheh u have made my life happy really, i didn't feel that life was so enjoyable before u came into it heheh i am like smiling always happy and jumping around hahaha thank you darling hehehe although it's just days when we where together but i see the future really hehehe =) so sweet going for dinner with you and WOW!!! hehee what a NICE NICE birthday present i got!!! AHHH!!! I LOVE YOU DARLING!!!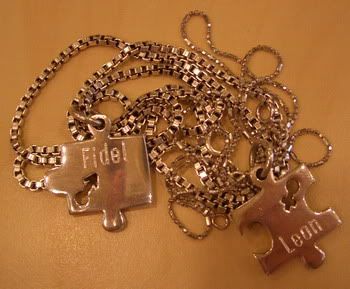 Engraved with hers and my name hehehe, Thx u deldel!!!
9:17 PM
13 September 2004
This thing has been bothering me for quite some time, i haven't had enough time for my studies for and being stressed out alot as i see my studying self degrading.
Let me share my shedule with u all:
Monday: Sch from 10am - 5pm then head for Aikido at 7pm - 8.30pm.
Tuesday: Sch from 8am - 5pm.
Wednesday: Sch from 8 - 1pm, JMD singing 4pm - 6 pm.
Thursday: Sch from 8am - 5pm, Hai Die Singing 6pm - 7.30pm.
Friday: Sch from 12am - 5 pm
Saturday: JMD 10am - 1pm
To be truthful, in the 1st place i was already very very stressed when i was told to be the head of singing division for JMD as i didn't know that i was going to be, i was just asked to and i felt like i had alittle choice.
As a guy who loves to spend time alone, at home or with gf even to study, now i am wondering if i could cope with my studies and relationship, the only days free that i could spend with my girl time is on saturday, from 11 to 5 but as u can see i am left with only a few hours with her as my cca is on the slot.
I just want to share this feelings with you all, hope that if JMD ppl read this don't feel offended.
I just don't know if i should give up some of my activities as i really feel like having more spare time ...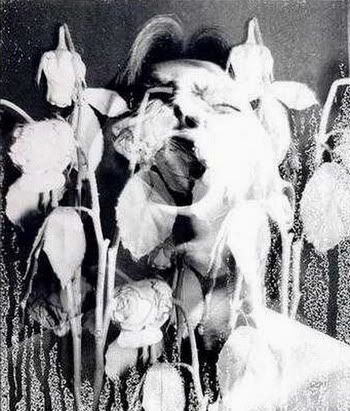 It's just becoming more of a chore then something i enjoy ...
3:28 AM
12 September 2004
Woke up at 4pm today, so late then wake up sooo tired ... hehe, yeah!!!! dinner with family at Jap Restaurant YEAH!!!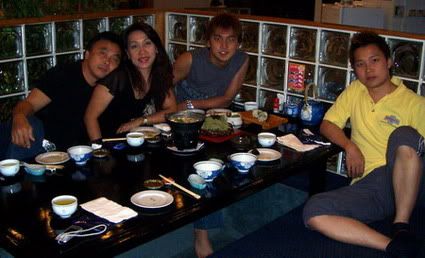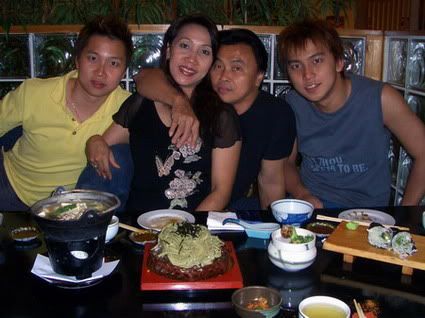 Kor, mom & dad, ME!!!
Miss my darling sooo MUCH!!!
11:05 PM
11 September 2004
Started out real great talked to her before i sleep last night everything was great!!!! hahah well thanks to JMD guys & galz for hmm reading my blog finding out when ish my birthday HAAHHAA!!! well straight after CCA went down to meet my del del lor hahaha sooo HAPPY NEH!!! so cute so sweet. Hehe hope u enjoyed lunch at the quiet beach with me, although time spent wasn't long but was well spent, hehehe MUACK!!! ehhee love you soo much hehehe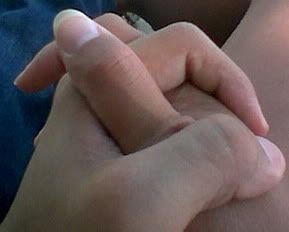 Holding on tight to your hands just the comfort, what words couldn't describe
Went to meet my sisters friends for dinner and KTV at night!!! thanks for the much discount Chong, haha and thanks to Ade, Kelvert, Terrence, Edwin, Jay Chou (SG Ver), Yin Shi & Husband for the very very nice wallet they gave me!!!!! and that nice ice-cream cake, celebrating with Ade today hahaha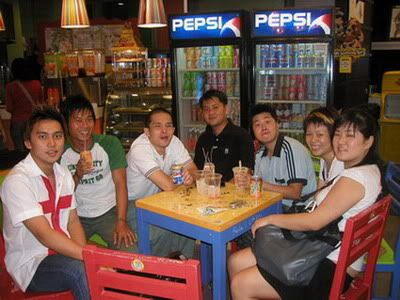 At Herren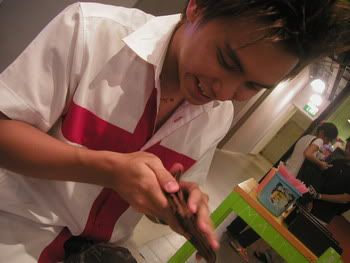 Looking at the PRESENT!!!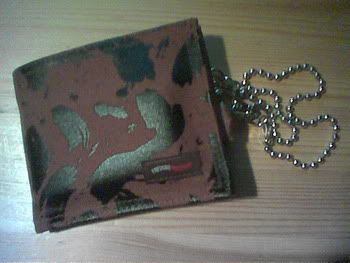 Nice Wallet!!!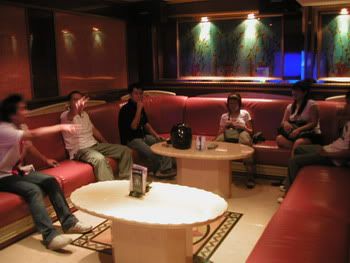 Big room thanks to Chong!!! VIP Room!!!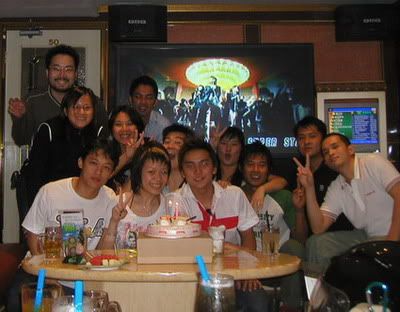 Group Photo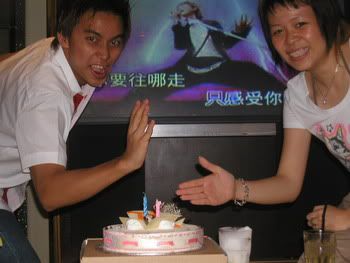 No knife? Use hand LAH!!!
Today is just wonderful!!! haha del u better learn that drinking is never good!!! hahaha
9:11 PM
09 September 2004
Today was GREAT! hahaha common test wasn't that hard and i only used 1 hour to finish hahaha and then i was sooo excited to see her!!! hahaha ... i was really nervous and afraid it wouldn't turn out well ...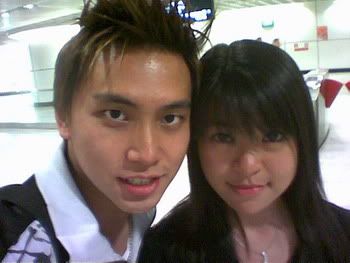 Today was really great!!! ahhh!!! hehe she is sooo nice hahaha soo cute!!!! with her aunt hahaha ke lian her aunt she is like soo left out hahaa but to see Fidel in real was great hahaha really sooo happy!!!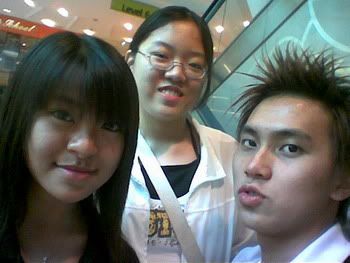 Fidel, Felicia & Me (What's with my mouth?)
Fidel, really hope you enjoyed the day as much as i did although it was just for a few hours, i had been smiling since i left hahaha my friends said they never seen me sooo happy hahaha i also donno why i am soooo just very very happy!!! really hope to see you soon hehehe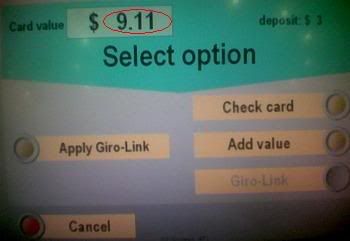 Guess what i saw when i saw the amount left in my EZ-Link Card? haha my birthday hahaha
hehe update again : hehehe she accepted me AHHH!!!! heheh DARLING!!!! LOVE YA!!!
10:11 PM
07 September 2004
just wanna say miss her sooo much!!!
2:58 PM
05 September 2004
hehehe received my 1st birthday present today!!! before my birthday hahah 911 AHHH!!!! why OSAMA WHY !!!! on my bday u Axxhole!!! me celebrate then in NY they all moaning there heheh. Funny way my brother jus called me then ask, hey what u wan for birthday ah? tell me i buy u .. then at 1st thought of buy game then i think haiz no point, then i thought AH!! i wanted watch and wallet so i choose 1 watch!!!!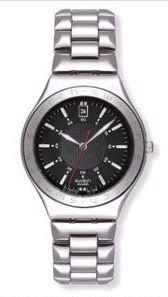 1st birthday present from kor & his gf thanks!!!!
Haiz so freaking stressed about math common test tomorrow i don't wanna fail .... shit math to hell with it ... i once loved you hahaha
11:16 PM
It's been a long long time since i went out with my brother, haha cool today just did, went to Suntec to chiong Maximum Tune, hahaha wah lao spend sooo much money .... at least 50 bucks wah lao!! heart ache, spend it like water, then went for Alien V.S Predator ... lame show .... so short de ... but was fun ah cos long time since me and my brother went out hahah remember last time while driving his Lancer, 160km on straight stretch then into a turn at changi haha won't forget that ...
Kor driving his 350Z, when is it my turn to get my hands on that hot wheels?
Kor & me ... we seldom take photos together so this is great 1 bah ...



the time i was out i just can't stop thinking about her .... miss her ...
8:01 AM
03 September 2004
nice day finally get to sleep like all day then go to school when i like hahaha, asked a couple of friends to study at my house tomorrow hahah too lazy to go out, haha after singing lessons as usual to Mei Shi Jie, makan makan then wah saw new cds selling at .... $6.50 AHHH!!!!! ORIGINAL SOMEMORE HAHAHAH!!! just that it's the china import version but totally same leh hahahaha cool bought Jay new cd & Nan Quan Ma Ma hahah cool manz, Peace out thanks ppl who read my blog hahaha hope it's interesting
Messaged a cute sweet young gal today, told her i bought the cd and stuff so she asked me to send her nice songs then she asked me... "you got LP numb?" i was like ..... LP numb? ( In hokkien ) hahhaha sorry yuan lai is Linkin Park - Numb hahahaha dirty me hHAHAHA!!!
1:49 PM
01 September 2004
Today was nice, heading back to ma old school althought tired but well, it was sorta worth it. hmmm this years teachers day performance was sooo cool break dance and all, indeed it is turning into a standard. So envy of them haiz. But well get to meet some teachers at school again cool i must say, didn't get to see loads heard they resigned. .... Anyway Happy Teachers DAY!!!
Zhi Wei, Leon & Zhi Jian
2:54 PM