23 October 2006
Well i am blogging yep i rested for awhile, we were all given off break for 1 week to prepare to go for Brunei training for 2 and a half weeks ... yep which means i won't be in sg for awhile gotta miss you guys and gals, well i have been driving more and more and really feeling happy about it... well i am listening to alot of music nowadays,english songs, well if you all have any song that is really good maybe can intro to me by sending to my mail =)
leonsuperstar5126@hotmail.com
thx you very much hehehe ....
We went to Vivocity and wow i must say it's .... to big hahaha so many shops so many people it's tiring just walking hahaha me and my gal just walked the 1st 2 storeys it's just ... disgustingly HUGE hahaha but it is going to be 1 of Singapore's famous places of shopping...
Hahaha 1 more thing!!!! I CAN STYLE HAIR LE HAHAHAHA!!!
New Pics hehehe
An Angel in Toysrus ? ahahaha
AHHHH!!!! MY HAIR IS BACK!!! Cool huh?!
Robocop is out here comes Roboman!!!
I have been trying to come up with ideas as well as getting inspiried i wanna write good songs but it's sometimes i don't know where to start nor who to go too ... really hope a path shows up listening to music played by piano really is ... nice ... i can get touched by piano ...
12:56 AM
15 October 2006
Long time since i sit down and then blog seriously i mean hmmm things that are with detail, well this recent weeks has been really nice, i didn't much think about the very "xiong" things in NS, well i am trying my best to be positive =)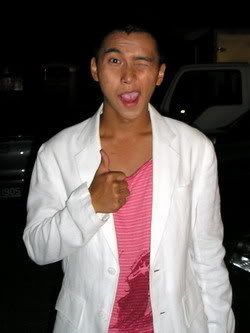 _0">
performance on 5th of Oct =)


Truly i am glad that my supporters still came although they can choose not to and really happy that i can perform on stage, i would say that that day my performance was great =) except for my own hmmm expectations hehee well anyway Sugi was there too, long time never perform in the same show as him le =)


Thx to all who came from far away to support =)


Last week, my gal and i went to the ZOO!!! hehe well it was a very long time since i went there i think at least around 5 years? haha well earning $350 a month we decided to da bao some local food and feast on the car before going for the visit =)


The Zoo trip i must say was nice but at the same time
somewhat ... been there done that feeling well anyway hope SG can do some more to make it look more of a different place =)
Today was a nice day being out with her, but she fell ill ... sh
e vomitted at least 5 times, i was buying her dinner when i decided to send her to the clinic, i am glad i am outside instead of in camp to takecare of her or i wouldn't know what would happen as she was alone ... anywayz she seems to be in good care now =) he
hehe

12:56 AM