12 October 2004
Yesterday was sort of erm roller coaster, after last night, found out again of her parents disapproval of the relationship, well a 3 year old also know it's becos of her age, well luckily i can still be her friend, and stay in contact with her when i think there isn't any problem well just got to let her parents know me more ... please ppl help me wish me luck too thanks
hehe nothing much just wat i made from plastic hahaha
hehe happy day today was =) really thx for the surprise!!! i mean although u forget to bring hehehe thx for the thought!!! love you so much leh heheheh thx u never part and never seperate ... =)
Tuition for math was great learnt lots 2h 30min whew blasted my brains but was worth it bah
11:35 PM
11 October 2004
hehe darling yesterday was really a fun day for me, get to see your parents haha, your dad is sooo optimistic, frank and fun person to talk too hehe and your mom is cute like you hahaha and also very nice. It actually shocked me already as they didn't scold me or warn me and ask me to break up with u on the spot ... whew, i also understand how your parents feels as your the only child in the house and your young age ...
So nervous, oh my i look sooo sleepy ...
Darling i am happy enough to see them, hopefully to let them know me more, hehehe church was fun with you hahaha Vicson, Jian Xiong are nice ppl but hey hey hey don always scold my darling gong hor she not gong! Don't play too rough with her also, she's a gal leh! hor darling hor ola sayang ke lian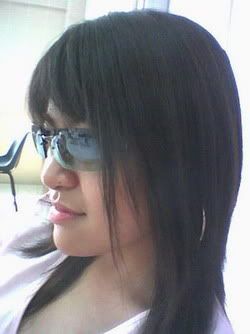 WAH! cool LEH!!!! hehe don always say yourself ugly hor! you are wonderful!!!
Thanks alot Zian Xiong issit? for inviting me to the buffet and thank you Mr & Ms Toh for paying for my dinner, taxi fare and stuff really really appreciate it and thanks for the time spent to be a great great host.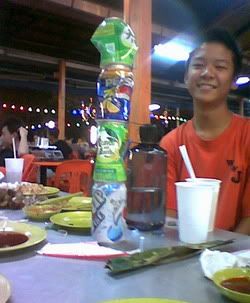 Wah after exercising you stomach now exercise mental and physical ah? hahaha
Although at the end of the day when there wasn't any and i mean NONE of the cabs are avalible and i asked my dad to come fetch us, i just hope it is also a way my dad and i thank you for what you have done for me =)
1:41 PM
09 October 2004
Wah today morning go JMD CCA then dance dance dance until my pants backside area BROKEN !!! AHAHHAHA!!! then wah got to go home change the go out with darling hehehe...
HAPPY HAPPY HAPPY!!!! heheh wah today was great!!! went out darling heheh was magical she is just soo beautiful heheh darling remember wor just braces only bah hehehe tml meeting your parents le leh! eheheh soooo very excited
Hope that you like the clothe i bought you ehheh, New Police Story very very nice hor? hehehe 1st time i feel sooo loved by another, so sweet when u hug on my arm when out rather then just holding hands heheh really happy today hope you are too!!! hehehe
Leaving you for just a second really makes me miss you ...
Excited Excited EXCITED!!!! for tml!!! ahhha good luck to me!!!
8:54 PM
whew just came back after fetching my brother from the airport hehe wah so shiok ah he went to aust for a week well hehehe wow
Today is quarter finals for Mu Chuan ' The Ark' singing wah lao all the singers are GREAT!!! man then my placing is the last number 10 hahahah!!! wah friends say save the best for last hasiao stressed ah, so i sang Lin Jun Jie - Chi Bang then waited for an hour to get results. Guess what? I GOT IN!!!! hahaha cool but my friend didn't =( he forget his lyrics AHHHHH!!! WHYYY!!!!!
ò_ô - I've got videos look for me in msn if u wanna see bah hahaha
After that i decided to sing a song for my parents i sang Tao Zhe - Sha Tan heehhe to thx my parents for taking care of me hehhe
Made it when in sch hehee
today i finished my PCB board early in school so decided to make use of the time, well sorry darling hahah just made that with what i had, well guess it's not anything special but it shows how much you are in my heart always heheh MUACK LOVE YOU DARLING!!!
Love me love me . .. ..
1:35 AM
01 October 2004
Yesterday wah got presentation in sch for PCQ project, haha wore formal, well although not required but it's a team effort to show how serious we were ...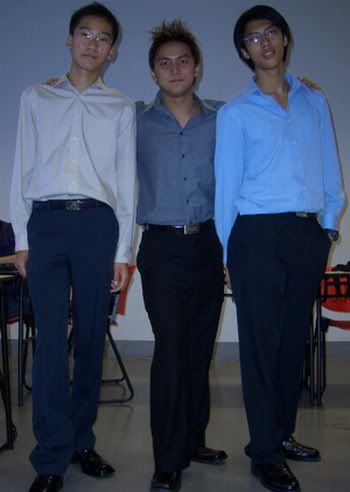 Yeah baby this is what i call 'Fu Lu Shou'!!!!
YEAH!!! good news and of cos bad news,
1st ... stupid exams coming ... wao lao stressed ah exams leh math, especially... got a F for math for common test wah lao speaking of the semestral exams ... well actually i think thats all the bad news but but but ... wah lao not bad enough issit? wah siao bo?!
My Hai Die Pals !!!

Good news, well selected for Mu Chuan Singing competition de final round (only consist of 2 rounds in total) hahhaa, and then the other one which is great yeah darling yeah? hahahaa
hehehe sweet!!!
sian ah had been travelling around to so many places so sian hate public transport waste of time, and hate the Ugly Singaporeans who stand infront of train doors with their pathetic faces and wanting to squeeze in when the doors open for alight what you guys rushing to? People who also don't know how to give their seats to older ppl who needs them.
Today went to meet my darling, at 1st thought there were no class at 12 then planned to meet darling no matter even if there was class. Called my friends to confirm ... they say there is class then i was .... haiz thought the lecturer sick mah then not coming. But heck care lah, go find darling liaoz. Then my pal Shu Herng called me "Hey Leon you still with your gal? Enjoy yourself the lecturer's not marking attendance" HHAHAHHA!!!
YEH!! darling got her freedom back hor? hahha yuan lay her sch soooo near my house!!! hahaha and then her house also sooo near the place i used to play WWE Cards hahaha yeah guess that means an advantage of meeting more hahaha MUACK!!!
9:18 PM