20 February 2005
AHHHH can't believe that i am still blank in the mind, and the math test is 30% of the total OH MY GOD!!!! 30% . . . T_T
Luckily i went to study with my friends at Khatib Mc . . . but it wasn't much of study because there was a birthday party going on and kids were shouting at the top of their voices . . .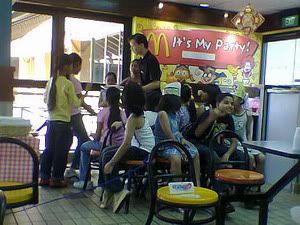 Darn kids AHAHAHAHA nah (sorry just trying to concentrate hahaha)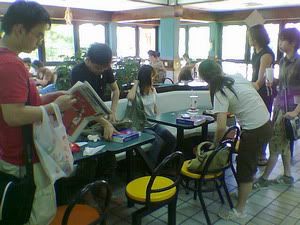 "People i can't take it anymore!!! come to my house study bah hahahaha"
Yeah you are right, and i am like rushing through hoping that i can absord as much, haiz . . . hate it haiz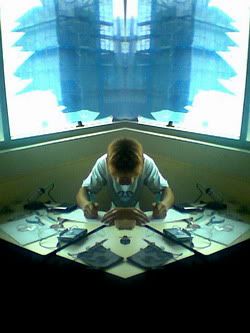 AHHHHHHH!!!!
at night my mom made something nice for me, missed her cooking alot hehehe
CRAB NOODLES!!!
come to think of it, 2 months really flew pass, so fast it's 2 months that had already passed, well some pictures taken with my sis still in singapore hahaha miss it when i can hang out with her and Adrian. I have always enjoyed the car rides when my sis is driving and Adrian is sitting in front, maybe it's the musical views we have or it's just the things that we can talk openly. . .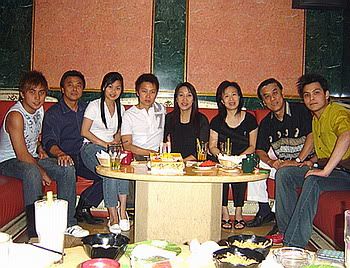 At KTV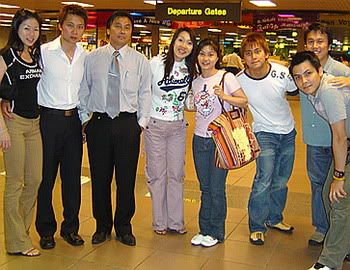 At the airport sending off my sis and Adrain =(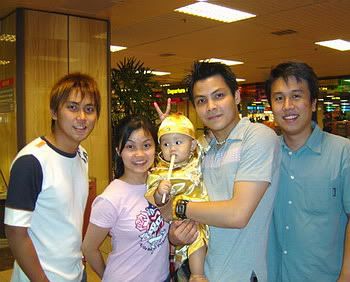 see that cute baby in da middle hahaha cute huh, it's Adrian's sis baby
7:17 PM
18 February 2005
Was asked back to re-record a few lines for a new Mc Advertisment that i am recently doing, thx you Lao Shi for giving me the chance to do my second advertisment, for people who wanna check out my new ad they can tune in to radio in chinese channels like 933FM or 958FM
it was normal day, as usual going to singing lessons at night, well after that my friends and i went to "The Coffee Club" to slack . . .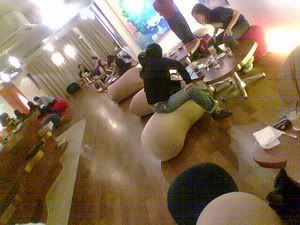 Cool huh nice place really to just SLACK . . . .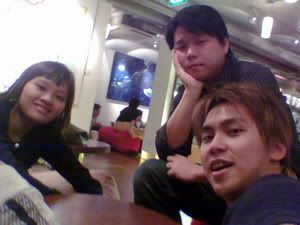 hey ppl look at ma singing buddies hahaha Venise, Kelvin & Me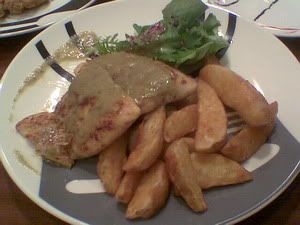 I also ordered myself a nice plate or Dory fish which is alittle eh. . . SALTY. . .
On my way home in the MRT, i was worried for my common tests coming on monday, haiz . . . it always sucks when it comes to common test or exam times haiz but i saw this very strange advertisment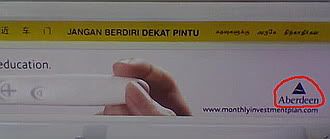 well i know it's lame but, like this advertisment is saying that, your wife pregnant it isn't too early to plan your childs education. But the company name sounds like APER DEN?!
7:01 PM
17 February 2005
Well days passed as my common test dates drew closer, really sucks it seem i didn't know anything haiz sucks, so busy this few days. . .
I am sorta lost for words, my feelings seem to be gone before i could catch up with them . . . everything is going to fast really . . .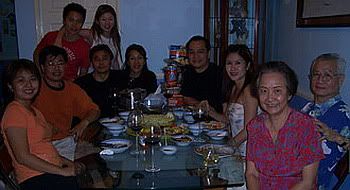 some parents friends dine at my house hahaha spot some familiar faces?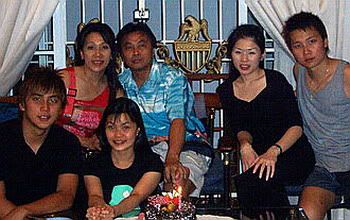 photo taken on my dad's birthday hehe taken with my bro gf in it. . .
Cherish the time you have, each second, you never know when you need to time . . . time is always catching up with us before we know it. . . when you need a rest . . do take some, but remember to get back on your feet or you'll be the one letting yourself down . . .
8:53 PM
13 February 2005
haha went to my friends house to play and found the hamster there so cute hahahah see this . . .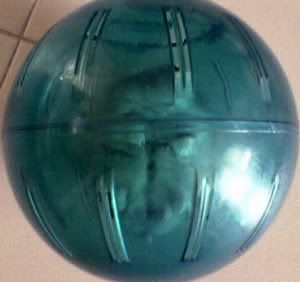 see anything? no? haha see closer alright . . .
Yep you are right hahahah it's so cute, it's playing dead HAHAHAHAHAHA!!!!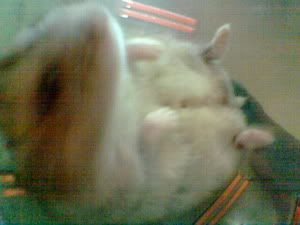 funny hamster hahaha
8:53 PM
10 February 2005
ok 2nd day hahaha today visiting parents friends house hmmm guess i'll wear 1 of my favourite hahah and stand at the same position and posture and .. . . . *SNAP*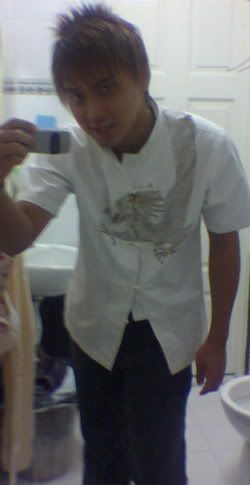 Nihehehe. . .
When i reached there , there were loads of ppl and a couple of familiar faces also turn up, Jack Neo, Li Nan Xing, Huang Yi Liang and of cos Lin Mei Jiao hehe it was a joyous occasion hahaha (lots of ANG BAO) hahaha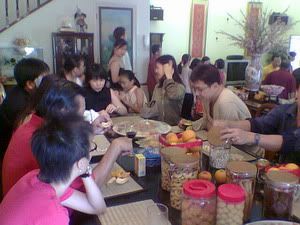 we were slacking and slacking . .. Jack Neo can be spotted on the right ...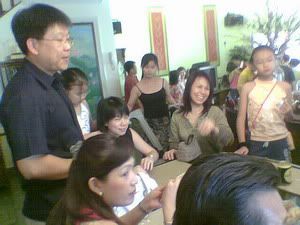 SUDDENLY!!! Uncle David stood up and said "PEOPLE!!! it's getting cold over here . .. let's ... let's ... LET'S LOU HEI!!!!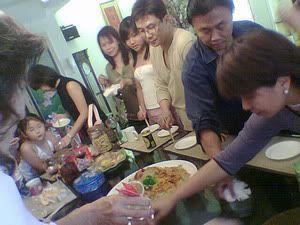 and then the old, the young, the fat & thin ppl all stood up and started clearing the place for a mass destruction of warfare . . .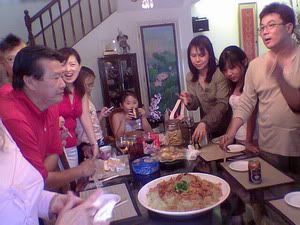 They all took some sticks which they called the IMFAMOUS "CHOPSTICKS" ... BUT WAIT!!!! OEI OEI OEI the host not here yet lah . . .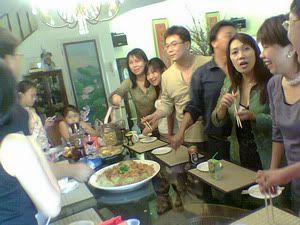 Overview of the terrain before the warfare destruction . . .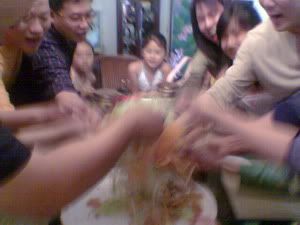 Many hands flew like missiles and they locked on the Yu Sheng . . . as if they were Honey Stars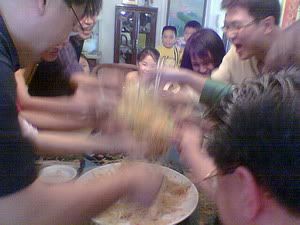 And the destruction caused many casualties many hands were dirtied
After the destruction . . . many reap the rewards that they had wanted and many others got words of consolation ... after that . . . i can only describe the destruction with this picture . . .
BEWARE!!! GRAPHIC PICTURE!!!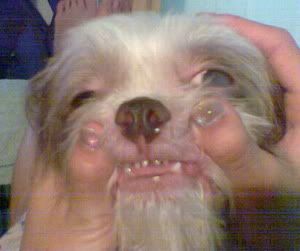 BLAR!!!!!! HAHAHAHAHAAH
Anyway Hope you all prosper and health this NEW YEAR!!!
10:12 PM
09 February 2005
YEAH YEAH!!! time to wear my new clothes on New Year!!! hahaha so happy hahaha but decided to gear up in something simple and casual as visiting relatives, both grandmothers hehe...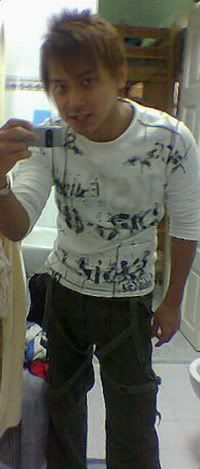 hmmm casual i guess hahaha picture taken for fun
after the whole day of visiting, at night we suddely thought of going somewhere to relax but unfortunately, most of the shops are closed on New Year hahaha so my family and i ended up at a floral area. . .
Mini oranges for New Year? hahaha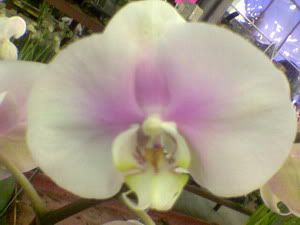 Beautiful Orchird
Ihave also left my hopes at the very place, hehehe what hopes? for me to know and for 1 to find out hahaha anyway HAPPY NEW YEAR!!!
6:19 PM
07 February 2005
1st day of the schools study week holiday, sadly it was on the New Year week. It really sucks how the school works choosing study week on chinese new year . . .
Anyway i decided to meet up with Andrew & Friends to study math which now i am super weak at, and need help. 2pm i met them then they decided to have steamboat so they went to NTUC . . . as time past i got anxious as i really wanted to study but i felt that time was insufficient .. .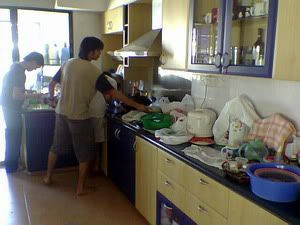 And we prepared . . .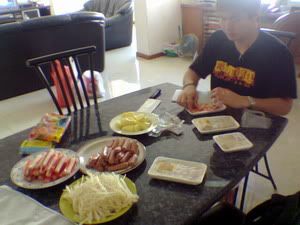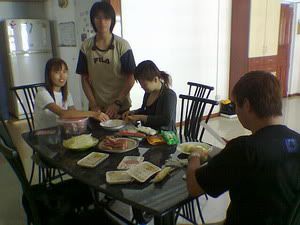 and prepared...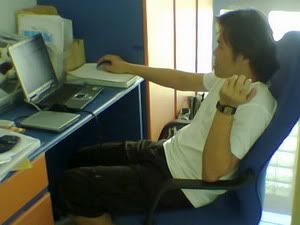 and !?!?!? WHAT THE HELL OEI!!!! ALVIN BUAY ZHI DONG AH!!!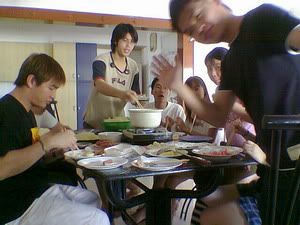 AH let's see in this picture we got everything finally set up, and eating on the left in black shirt and braclet is Guan Zong, standing was Shu Herng in brown shirt, then on the right ... AHHH!HH!!! GHOST!!! GUI GUI NI MEN DOU SHI GUI ( A phrase from David Tao's "Ghost") oh chey it's Li Cong hahaha
10:15 PM
05 February 2005
This few days hasn't been much of rest for me i have been sleeping for less then 5 hours each, busy with things that doesn't seem to be completed, whew anyway went to school in the morning then to driving in the afternoon AND then . . . need to go for Qian Hu Annual Dinner busy and tiring day for me . . .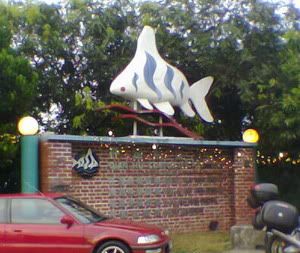 Far far away from my home . . . ahhhh Qian Hu ...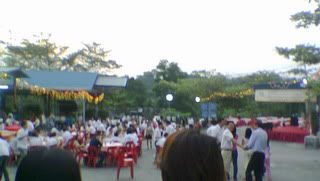 Crowd there huh, and see the stage on the right? hahah
Least did i expected that my parents friends would request me to sing them a number on the stage at Qian Hu, it was so pai sei as they wanted me to sing song after another but i couldn't as it wasn't my occasion. It made me feel as if i wanna show off . . . i rather i didn't sing haiz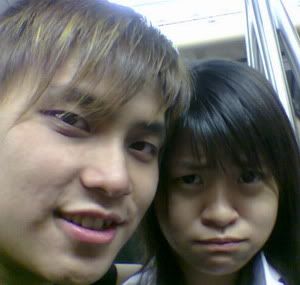 Just happen to find this cute photo hahaha look at her how cute awww she will always be there in my heart hehehe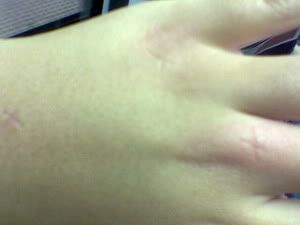 hehe cute huh spot anything? hahaha
WOW 1st time i driven on the road hahaha was so fun, driving is really fun hahah wonderful, but but but maybe due to my inexperience and my excitness i stalled a couple of times when trying to go off . . . and i panic as there are cars behind me, the worst senario i felt was to get stalled infront of another SSDC car also learner BUT!!! is a auto car driver which never get stall . . .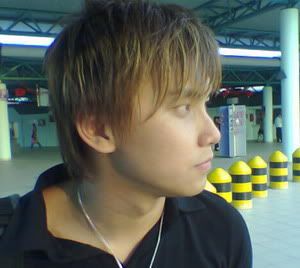 oh my do i suck at driving? or wat haiz
Well the night didn't end as smoothly as it was expected to due to some personal porblems and now i am so tired after staying up i gtg sleep hahaha enjoy ya weekends ppl!!! GD LUCK TO MY DEMO RECORDING!!!
Feeling: Missing Missing Missing her so much
1:19 AM
03 February 2005
hahahaha wow yesterday was a funny day and busy day, went out in the morning then rush back home to do semester project hahaha wah everyone was busy all over hahaha well let's look at ma magic mirror where we retun to yesterday . . .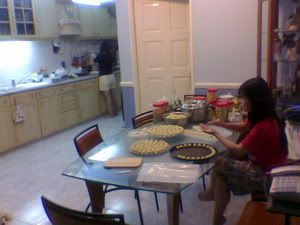 hmmm my mom and sis making the infamous 'Susie' new year biscuits hahaa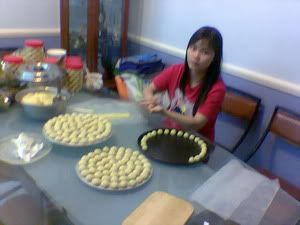 EHHH!? what? not happy ah? OHHHH tired hahaha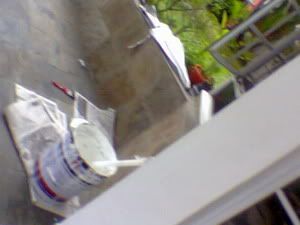 hmmm evidence of painting ... *sniff* *sniff* it sure stinks . . .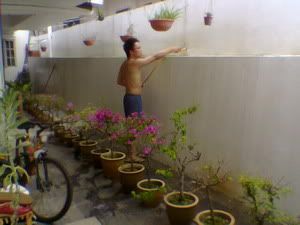 WOOOHOOO sexy leh hahaha my bro readying the area for painting hehehe
And i was sitting all along infront of the PC typing the hell out of my PC trying to complete my part of semester project hahaha
Hopefully i can get enough time and funds to continue driving lessons any sponsors? hahaha miss you my love thx alot for always being there =)
6:48 PM