27 March 2006
Well met up with WJ, Amy for dinner last week at far east, haha it's a jap restaurant for dinner, i had a hard time trying to wake C and WJ. Anyway it was cool haha i am glad they liked the dishes prepared there, met up with C & S later on and had a wonderful and funny debate session at a 24 hour restaurant at orchard *hint* *hint* till early morning ... so glad i have them as friends.
25th: Moon Over My Heart by David Tao
Kiss Goodbye by Wang Lee Hom
26th: Forever Love by Wang Lee Hom
Ai Hen Jian Dan by David Tao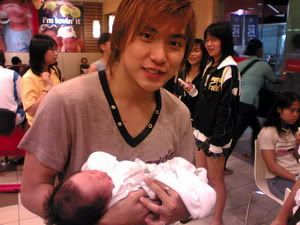 nope not my baby but hehe it's so cute!!!
Events on 25th and 26th was great really had to say a huge thx you to all my supporters turning up to support me =) well i wonder if by time passes will the number increase or decrease, i know i am making progression in on stage expression and hopefully supporters will also increase. Truly wonder where some of the familiar faces went, it really feels great like a gathering where friends and chat, i always feel happy when i see them talking and laughing with eachother.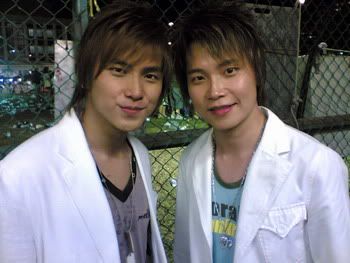 Kor was there to give me support too =)
I guess that "swear" i made in my primary school wasn't empty and i really wanted to do it, i swore that i wanted to keep people around me happy hahaha =)
Till now only left with 1 more event on coming of 8th April, at Yew Tee Community Centre, 8.15pm truly hope you all could come down to give us yourr support, Sugi, Chanel, Candy & Me are performing in an 1h 15min segment.
My girl accidentally boiled 1 section of her finger AHHHH!!!! pls becareful next time ok? poor thing
1:09 AM
19 March 2006
* Events *
=======
NOTE Changes to timings
25th March, Saturday
Braddell Heights Community Centre
(Exact Location is open area next to Neighbourhood Police Centre next to CC)
Be there at: 8.15pm
Performing 2 Songs
26th March, Sunday
Blk 21 Ghim Moh Road (Outside Community Centre)
Be there at: 8.15pm
Performing 2 Songs
8th April,
Saturday
Yew Tee Community Centre
Be there at: 8.15pm
Sugi, Chanel, Candy & Me will be performing a 1 hours and 15minutes show so pls show your support ok come down to support us =)
Synopsis of my acts =)
================
Xing Shan Shan:
As Morgan who is so deeply in love with Wendy, that is willing to do anything for her. In the show he is a fairly simple minded (alittle gong) guy with little needs and gets over possesive over Wendy and stalks her.
Meng Pin Tu: Ep 9, 10, 11
As Leon in his evil evil ways, doesn't care about how people feel when he speaks, tries to take advantage of the situation and only cares about himself ... typical evil guy wannabe.
2:53 PM
02 March 2006
got my pes status ... it's a B ahhhh but i was pes B because of a very bad migrain that will cause me to vomit, happens when i am under stress ... heheh was a problem since sec 4 ... well anyway hahaha my sis had lots of plans for her stay in Singapore till March 12th .... wanna see my legendary Sista? hehehe ...... TADA!!!
Family Picture
Well i am hoping for something to do, well maybe gotta find a job =) soon ...
11:26 PM