28 May 2006
Well i guess everyone has problem in communication with their parents, well same with myself i guess at times i just feel that really i can't talk to my parents, i guess both are different they are too set in their communication ways, and the 1 thing i disagree about i think is assumtion, i truly don't understand why they have to assume everything and be the genius of every subject knowing the rights and wrongs.
I talked to my friend about how my mum compares me with every celebrity she is impressed with when she sees on tv, he told me that if really they stress you so much and compare so much just think "A set of fingers with all different length and sizes" ...
I have been trying to talk decently with my parents but it seems like it's a 1 way communication, they stick to their stand as hard as 1 do, well i guess we'll have to try...
7:54 PM
23 May 2006
Well i can see that the tag board has once again become a place of hmmm discussion? hahaha anyway i just would like to say, for people who are very concerned about how i feel after i read the tag board, i just would like to say i would only take in constructive comments, so don't bother about people who wants to say what they want ok? just be happy =) as what i want everyone to be =) takecare peeps
8:34 PM
20 May 2006
Well i will be doing some shopping for my army tml haha well feeling i should buck up, hmmm nothing much to say but loads had happened this few days yep =) hmmm maybe why i feel alive is .... because of the pic down there and yep this is a preview of how i look in shorter hair, hmmm well i think for me my hair really makes a difference haha i feel hmmm sorta unspecial after my hair cut and feel as if i had lost the star factor ... good news see ya ppl at 5566 concert tml =)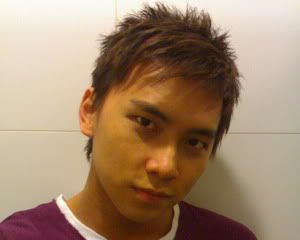 3:53 AM
15 May 2006
Well lately i have to thx my friend A.W for helping me revamp my website @
www.leonlim.com
truly thank you and thx May Jie Jie my dearest sister for helping me think of the words to express myself in my website "about" section on Army Days. Yep the recording i did at Loop Systems have also been uploaded into the experience corner named as Forever Love 2006 hope you all love it, and 'Qi Li Xiang' which was did at Virtuoso Arts and at it's RAWess (Non-edited), truly hope that this 2 songs can accompany you all throughout my 2 years in army hopefully after that i can get on track for some self composed songs =)
1:50 PM
07 May 2006
Well i just wanted to add something to the 1 million dollar answer =) well i think i will be donating $50,000 to charities also i think that it is also important to aid others if it is basic or even maybe to accomplish their dreams =) well i will be placing $450,000 in bank instead of $500,000 thats all, what have you done to make you feel good today?
9:43 AM
06 May 2006
Well the clock has been ticking unstoppingly, i have to say i am ... climbing up i want to struggle to do the things i always wanted to feel alive, also have been sleeping my time away well now i am forcing myself to sleep latest at 2am and uake up latest by 11am, yep i wanna feel i live longer hahaha, well watched Meng Pin Tu, and i really think i should do something about one of my tooth that doesn't seem to be in place and looks ... gone lol haha gotta get it fix have to =)
my acting haven't seem to reach the standard i want it to be, have to do better next time =) ... well have been going out too often i feel so sick of going out le ... just feel like staying home and slacking around hahaha ...
Well enough of all this summaries... now for the 1 Million Dollar Question =)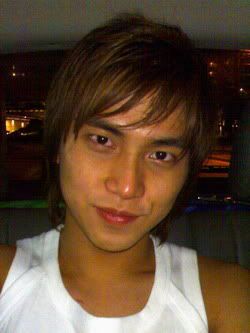 What would you do with 1 million dollars if someone just ... deposited in your account? well i will just answer that for myself =)
1 million dollars, i will be putting $500,000 into a fixed bank account to gain some interest for 5 years, with $500,000 left i will be giving $100,000 to my parents and $25,000 each to my brother and sister.
i will be taking $100,000 to release an album hiring percussionist and producers to teach me on hand how to make music (hehehe *dreamer*)
i will be learning how to music produce and also play drums, piano and guitar in the advance level as well as dance ... let's put $50,000 for all, $100,000 i would invest in a branded clothings shop =) leaving me with $100,000 what do i do with those money? well i guess i save up and slowly use it until my fixed money is ready for me hahaha ... what about you???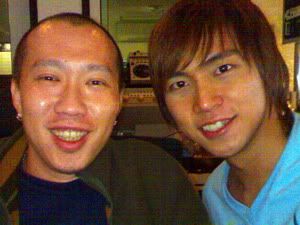 Dropped by to Loop System Sound Studios to record a song for my own keeping, well yep it's a chinese song and yep it's a song i have sang before, well i wanted it also as a demo. It may be the only song that i will record and put to cd quality but i guess i am glad Desmond really did a great job with it =) thx you Desmond =)
1:46 AM