23 February 2006
Well just as i though ... i was gotta be outta job, thx to Jason's intro, i got a small little role in Meng Xiang Superstar, when i got the script i was like ... wow what a baddy hahaha i am so bad in that show i am suppose to .... well i can't reveal the story unless u all catch it but anyway, if you all watch it and start hating me ... i succeed in my acting =) hehe but 1st of all i would wanna apologize to all Wei Lian's Fans hahaha well understand me it's for the show and not what i want to do and say =) anyway 1st time i am acting as such a baddy anyway enjoy!!! hehehe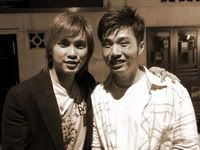 photo made small to protect scene story =P hewhehe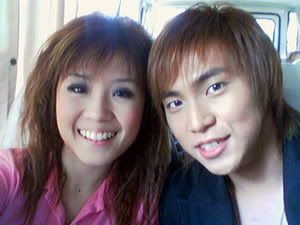 On our way to destination =)
5:05 PM
12 February 2006
"ok i will play and sing Kiss Goodbye" WHAT!? why did i even say that?! hahaha i never even have enough practice nor anything and you want to play that infront of all the people? and disappoint your supporters?! .... well yep i flopped ... haha didn't play well and was utterly disappointed with myself .... ahhh Sugi why you came late and to you seem like nothing had happened ... so sad .... haha fingers were trembling ...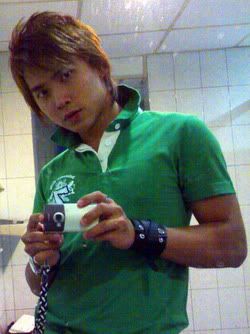 taken at some mcs toilet sometime ago hahahaha
Well, but I'm never gotta let it get me, i want to be that extrodinary guy on stage with more talents ... yep i am taking keyboard lessons soon hahaha, I promise myself and all supporters the next time I play music and sing at my own risk ... it will not be like that ....
10:23 AM
06 February 2006
National Library (Valentine's Day Performance)
==================================
Leon & Sugi
Date & Time: 11th, 1pm
Exact Location: National Library (to be confirmed asap)
______________________________________________
Fo Guang Shan Charity Performance
==========================
Date & Time: 8th, 5.30pm & 11th, 5.00pm
Location: Sim Lim Square, 1 Rochor Canal Road(Auditorium)

See ya there!!!
6:06 PM