18 March 2005
After many last min or rushing rehearsals, with 2 days to deadline, finally we have arrived to the destination . . . SEG Idol (NYP School Of Engineering Idol) night A.K.A Fusion Night. Well we were all prepared to sing for the people and be judged with 1 song.
can't get the feeling of being nervous as the program wasn't well publicised and i felt not much stress about performing that day
1st was the introduction where the 6 idols (+me) go for alittle cat walk and do a self intro
2nd was purely singing of a song by each idols
Songs Sang:
1st: Shi Le (Nothings gonna change my love for you)
2nd: Shi Jie (Somewhere over the rainbow)
3rd: Feng Zhe (Knokin' on heaven's door)
When i saw the amount of audience present i was disappointed and felt less tense, the amount was ranged between 100 to 200 only where about 300 was expected . . .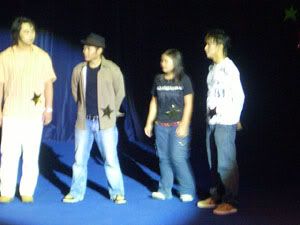 Introduction where we stood . . .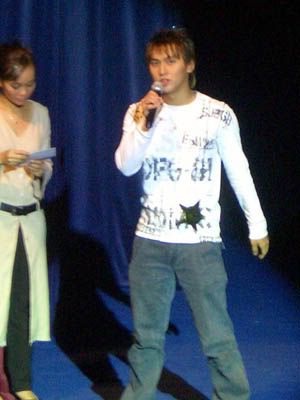 the self introduction
ok i know . . . how come no other contestants photos? . . . nope i didn't ask the camera man to just capture me . . . but he did . . .
people were running all over the place in the back stage, i just couldn't explain the feeling i had at that time, it was so fun to see people running around and then people working hard to make that night great, it was just wonderful for me . . .
Brendy, my JMD singing division student "GAMBATTEH!!!"
1st time on stage yeah? well done Brendy, you just gotta learn how to follow through yeah?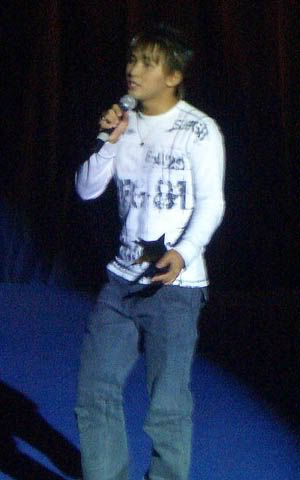 Yep my turn then, everyone was tense by then well as usual i was afraid that i would go blank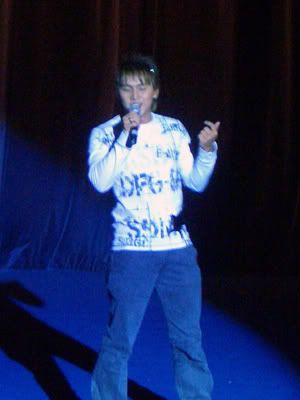 Whew luckily everything went well
people told me i was going to win, but well i got to say i musn't assume that i will although i felt that i did alright . . . i just want to say thank you to all the people who have supported me that night and said my song was touching "THANK YOU"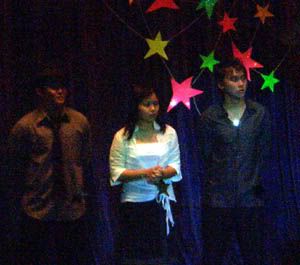 Yep, prize giving time . . . Brendy was 3rd leaving me and Fizial
this was the 1st time i actually came so close to being the champion of any event, i didn't expect my heart to beat as fast as it would . . .
The host dragged alittle time and annouanced . . .
"THE WINNER OF 2005 SEG Idol is . . . . . .
OH MY .... 1st time i ever won a competition hahaha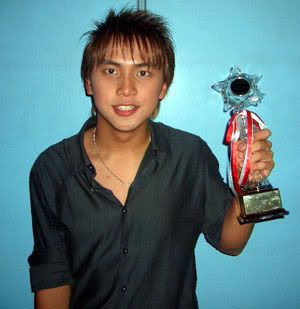 Yeah my throphy and . . . make-up which made me look ghostly . . .
It was the moment i will never forget, that cheering going on for me. I thank you all people who supported me thank you, i just wanted to entertain =)
I thanked all the staff and people who worked to put up a great show, without them i would not be standing on stage with the right spot lights or anything like that. . . hope to see you all soon =)
hehehe . . . ok let's get back to story
Well after that i accompanied JMD members for dinner at a Jap restaruant . . .
thx ppl thx
I ordered a noodle which tasted . . . . like . . . god it was CHILLY!!!!
11:56 PM